2nd November 2010 - Here's some feedback from the CAN fungal foray at Etherow. Personally I would have liked more species on show but we did OK anyway. These messages were sent to CAN organiser Rachel Hacking.
'Yesterday's CAN event was another stormer, I thought. I learned more about fungi in 6 hours, then I have in my whole life' - Robert O Connor
'I was very impressed with Fungalpunk Dave's expertise which made it very interesting despite most species having died off in the frosts. Excited to see the earthstars - a first for me' - Ralph Atherton
'Just a very short note to say thank-you, for a great day out, from Joan and I' - Selwyn Forster
Very generous and hopefully can do the group more justice with next years foray on the 10th of Sept
Also - CLIP - October 16th saw FoAM joined by Fungalpunk Dave of Fungal Friends for another successful foray. The sessions held in the morning and afternoon attracted more than 50 visitors who were treated to an informative and enjoyable hunt through Marbury.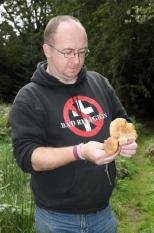 As soon as they blink this one is over the shoulder
(Taken from the FOAM autumnal newsletter)