DAY ONE
After a wealth of phone calls, an avalanche of e-mails and a marathon of organisation the SAS 3 dayer was here. With 15 bands pulling out over the previous few weeks I had eventually got together a line-up that I was more than a little proud of. A damn good variety and some real stunning quality I hoped that this 3 day blast would finally make the statement to all concerned that there is enough quality out there to pull-off a barn-storming gig without relying on the same old bands and going through the same old motions (the only time I would consider going through the same old motions would be if I fell into the mystic world of excrement examination - a long story and filled with deviancy - perhaps another time). Set to lose a few hundred quid I was hoping to bumble by and anywhere close to breaking even would be considered a success - let us see.
After just sorting my diary and finishing up at work me and my little un' got to The Thatched House at 4pm on Friday to set things up and greet any early birds. Banners up, a free drink off Banjo and a game of pool with my daughter (you really do need to practice love) and a few faces arrived and the Asezawallas kicked things off due to First Time Riot being stuck in traffic and wondering if they would play or not?
Well if you are going to set a standard at a 3 day bash why not do it with the first band. The Asezawallas got up and dished out a sound that was a joy to my ears. Rough, deliberate, very catchy and rammed with meaty energy this was everything I wanted to see. This band are struggling for gigs due to living in a punk wasteland and this is truly punk rocks loss. The two CD's this lot have bashed out so far are worth anyones money and this was transcended across into a real enjoyable set that convinces me to help these guys as much as I can. 'Needle', 'Welcome To The 21st Century', 'Tall Tree' and the just wonderful 'Outside The Circle' were sheer genius and filled me with no end of pleasure. Awesome opening and the buggers said they weren't up to scratch - frightening!
First Time Riot made it and by gum me old china I am glad they did. What a fuckin' classy band with a precision and presentation that smacks of real talent and damn hard work. I loved this and again it just left me truly inspired. Another fuckin' good bunch who just need to build up the contact book and then I am sure its just a question of wait and see. Best songs were off the new CD which is a real peach. 'This Country' and 'Seize The Day' are almost anthemic and will contribute to seeing this band go onto bigger and better things. A fine inclusion.
Forced Entry next and yes a real cracker. Fine band this and to follow two quality outfits really does take some doing and in some ways tests a bands own talent. All questions answered here with a hard-edged sound waking up any narcoleptics and users of Mogodon. I enjoyed this a lot and though the beer had flowed I still had enough nouse to recognise a very decent outfit.
Bookstore next and what a good do. Perhaps not meeting everyones aural needs I thought it was decent stuff and the distinct sound helped the overall variety of the evening. Getting a bit distracted and pissed at this point left an overall verdict wanting - but for now - highly enjoyable.
2 Sick Monkey's got up next and in truth what can I say? If punk was ever going to be encapsulated by a band over this weekend then these two amiable 'erberts would be a good choice. The performance was excellent and only marred by a mis-understanding on mine and a mates part over paying in which was in itself ridiculous and fuelled by drink. It got a bit worse later on and assisted in myself missing most of the next band, namely The Bullet Kings. Aaagggghhh. What I did see was quality but I really wanted to give all bands my full attention and will not comment without it. That will teach me for being a piss-pot and contributing to a silly argument that really had no foundation whatsoever. Daft ain't it? I suspect the stress of setting up the gig made me a bit more awkward coupled with the fact that I do care about the gigs I arrange but all in all no excuses - bladdered and foolish - simple as that! Getting back to it though - my daughter thought the 2 Sick Monkeys were the best band she has ever seen with the piss-taking version of 'American Idiot' fully understood and enjoyed by all. Lovely. The Bullet Kings have been diddled by my distraction so apologies but I shall catch thee 3 wizened fatmen again.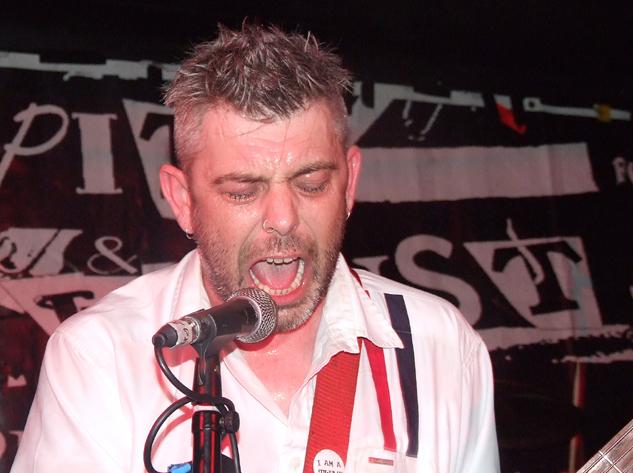 2 Sick Monkeys Pete - Quality bloke in a quality band
Lastly a bold statement but one that was truly justified in having The Fractions to top the bill. A real fave of mine and with their excellent attitude and always helpful approach plus top notch songs I thought 'lets throw these buggers in and see what comes of it'. Well for me a triumph as I saw an under-rated band really open a few eyes and ears with a ska-burst of full on brilliance. All the faves were there plus a few other tasty morsels and hopefully this has opened a few more doors for a fine band to jump into. Always quality this was a fine end to an evening of high class entertainment. A few punters in and the couple of hundred quid loss was still a looming prospect but if I see more of the same from the bands concerned then complaints will be few.
Pissed-up I headed home for ten slices of toast, a cup 'o' cha and a snooze. Derserved methinks!
DAY TWO
Up early and feeling shitty but looking forward to the day ahead. Arrived at The Thatched with Banjo still snoozing. Lazy bastard. Anyway Lisa and top bloke Dave (Buddha) where there so I prepared for the day ahead. A couple of The Dangerous Aces were present too and we chinwagged about this, that and t'other. A few new faces appeared and a few other bands and before you knew it something similar to a crowd was had. I had expected a few more to be honest but this wasn't bad and The Dangerous Aces had a chance to strut their ever improving stuff in front of a few different punters. It was a good opener too and the improvement these guys are showing is very good to see. Another bunch of approachable geezers always helping the scene and doing their respectable bit. I am really looking forward to their debut CD and am expecting a bit of a gem. Knowing this lots punk and general musical knowledge it should be well put together and of many flavours. A real good do this and as usual 'King Of The Road' ended an improved set. The opening slot that was offered them was never questioned (now that's spirit) and the benefits from that should be well deserved. However Moz has since messaged me and said that they will play outside an open tarts legs! Quality. Cheers lads.
Next up DBD a band who I am familiar with but hadn't seen for over 12 months. By fuck these buggers and grown both in stature and as a band. This was absolutely fuckin' incredible and all I can say is that their recent tour in the US must have gone down a storm. Fast, hard-paced and full of tight technical moments this lot rocked. The bands doofer Mike is a class act and puts his ass on the line for the punk cause and the fact of the matter is he is being rewarded ten fold by a band of this quality. He has on his hands here a great outfit and long may they prosper. Go check em' young and old alike - faultless.
Social Schism Part 1 - yes a two part set or one set played twice if you please. Up from Southend and nothing to do until tomorrows set I let this choice 3-piece have an extra crack of the whip rather than just potter about getting frustrated. Glad I did and 'Battle For Cable Street' and 'Fight Back' were polished pearls from a noisy and enjoyable set. Good lads these and if you ever get down with society and think all the young brigade are shit bags have a chinwag with Ben and his bro. Lovely lads and their mams a nice lady too (now its punkily official lads) and she should be well proud of the band these enthusiastic buggers have got together. A pleasure to have on any gig.
Revenge of the Psychotronic Man hit the stage next and despite being a guitarist down still pulled off a good set. As a 3 piece they can't bring about the wall of noise that so recently propelled them to the status of a superb band but this is still infectious full-on stuff and its only a matter of time before they are back to a four piece (in fact has top boozer and musical prostitute Gizmo Matt already joined as I write)? Overall a stunner and more to come with 'Becky Want' a searing classic that embraces every good point this band have. Another cracking bunch of lads who do their bit for the scene and are always welcome on a Fungal SAS Fest.
Bronze break and with only 32 cans to keep us going a few bottles of the heady brew we know as QC were shipped in by yours truly and other well known piss-heads. A chippy visit resulted in the arrest of Tim 'Punk4life' Davies for indecent exposure whilst purchasing a cod but that's another of those lengthy twisted tales that have no basis of truth. Gently sozzled we merry crew headed back to what was turning into a very enjoyable gig.
Chitchats and beer, drunk with no fear, the piss-pots are here, so on with the show.
Faintest Idea are a ska band cum hard edge punk hailing from Norwich, a place famed for Alan Partridge and Delia Smiths Deviant Duffel Bag Gang. I like a bit of variety and having seen these guys at a Ska Bar gig in Manchester was very, very impressed. This was solid and despite new inclusion, Dead Pets Stash not ready for the mix yet this was as good as the previous time. In fact it was better because the sound what was being had was exceptional and Faintest Idea thrived. 'Why Don't Rich Kids' and 'See You In The Gutter' were exceptional from one long solid set. Sound as a pound.
Well so far so good and although the crowd wasn't wall-bursting it was OK and people were impressed so far by the diversity and quality of the acts.
The Fanny Pads next and this was very good. A lot more solid in approach and sound and these fuckers really turned some heads. The feedback I got was very good indeed and through impressed eyes I watched a very polished band rattle off outstanding song after outstanding song. A lot of the stuff was off the new album and it really did the business. Outrageously good and very appealing to the old school brigade I thought this was an excellent debut at Stockport and Banjo the landlord was one of the impressed on-lookers. Nice!
'Throwing down beer like it was going out of fashion' (quote from Paul from Most Likley To Fail via Steve of Flat Back Four) a few of us threw caution to the wind and decided it was another chance to get caned. The fact that two of these drunken swillers were Big Daz and Tim 'Punk4Life' Davies may come as no surprise – and so it shouldn't – nowt wrong with a few snifters'.
Jon Crocker next and the change in tempo to the nights proceedings worked well as Jon strutted his solo stuff and really dished out a few classy ditties that charmed and warmed the punters. What any of them were called is beyond me (the songs not the punters) as I just admired a good musician playing some nice melodic tunes for an obliging and appreciative audience – cheers Jon.
Me and Insane Society Sheldon were both pissed at this point and he very much wanted to do a poetry piece which was duly set-up. A great fuckin' bit of improv' too and truly enjoyed by all in attendance – well done mate.
Now for one of the best bands of the moment – Flat Back Four. I really wanted to expose these guys (no read on you filthy bastards) to a good crowd in this area and this was my chance. I was very confident that this lot could produce a stunner and in fact they did just that and more. Absolute bloody class! 'Over The Top', 'If I Die Tonight', 'Share The Wealth', 'I Told You I Was Ill', 'We Are The Fallen', 'Thatto Heath', I'm Building An Idiot' and the exuberantly heart-warming 'Psalm 23' speak volumes for a band who drip with molten class. Attending gigs is in itself like life and there are moments you will never forget – here was one – I think that sums it up! Go and support and enjoy – you will not be disappointed.
Poor buggers Apocalypse Babies had to follow this and you know what – those drunken deviants did just that and in their own way and style played a peach. Sometimes the light-hearted side of a band can take away the appreciation of just how good they are and I think the AB's have suffered from this in the past. Tonight was a bold statement that said 'we are fuckin' good' and I am not one to disagree. A mighty fine band and one of the most under-rated this lot still produce the goods and with some fine albums under their belts should be doing more. No bother though as this has quality tune after quality tune with 'Mental Breakdown', 'Fast And Loud' and the brilliant 'Too Old To Dance' fuckin' masterpieces in one hell of a colourful gallery. Great stuff.
And finally a band enjoying a renaissance and reaching new highs with every outing. Riot Squad are the dream hardcore band of the moment for me with an outpouring of busy, no-nonsense, 'balls-out' punk rock played with deliberate efficiency and raw, channelled aggression. Pissed and pogoing this was irresistible and the beer-fuelled fury was as infectious as ever. For me as far as this style of hardcore goes this lot can't be touched and the recent album (reviewed on this site) is one of the best I have heard in a long, long time. Opening with 'Riot Squad', filling the set with power-punching anthems such as 'Pressure', 'No Escape', 'Bullshit and Lies', 'Speed Cameras' and 'CCTV' and then bowing out with 'Flying Squad', '12XU' and 'Wasted' this was a real choice cut and ended a day that for me was a pure pleasure.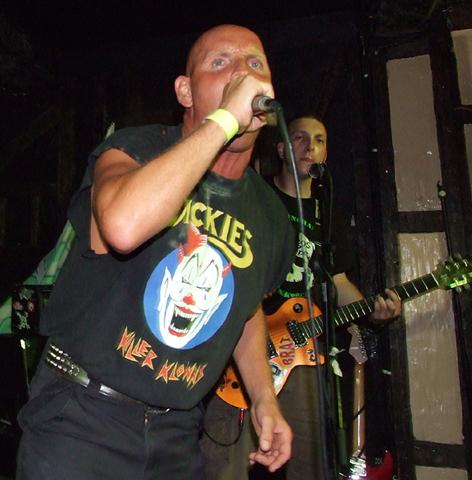 Riot Squads Chiz - pure fuckin' class in all departments
Pissed again (disgrace) and home shattered only another 13 bands tomorrow and its done – hey ho no rest for the wicked.
Before going home I had a chat with Hugh and chums (Deadlamb Records and valuable, respected friends and sponsors of the tour) and asked what they thought. With eyes like piss-holes in the snow after a heavy bout of boozing I was greeted with winning smiles and utterances of pleasure and support. Fuckin' nice people these and hearts of pure gold. Through thick and thin on this tour their belief and trust and dedication has never wavered and for that I am truly grateful. Being bloody nice people too is a great bonus. Cheers.
DAY THREE
Very tired today and after sorting my head out and watching the footy highlights it was back to the Thatched for 11.30am to meet an up and ready Lisa and a shagged out Steve (Sound Guy). Banjo was still in bed!
All sorted and chatting with local punkers Section 47 who last time I saw them played a bit of a shitter. After telling them they were a bit dire they promised that this time they would rock my hairy arse. In order not to be proved wrong my arse was freshly waxed and I laid back and watched the band get prepared and then set about strutting their stuff. Hey this weren't too bad and there were several good moments here that displayed a band with determination and youthful belief. Its getting better and the attitude, effort and willingness was much appreciated. Keep at it and there will be more gigs to come.
A dazed and sleepless Doubting Thomas came and went in the blinking of an eye and played an OK set that wasn't typically punk but had enough variety and ability to get by on. 'In A Rut', and 'Midlife Crisis' were the best and the punters what were in attendance appreciated what they saw.
Another young band next (to me at least) and one which I have really had mixed feelings about. I have never really passed verdict on Ambush UK before with a fiery conviction but today's performance was rock solid from start to finish and really impressed me very much. I would be hard pushed to pick the best number but several off the new album really worked well here and were played in an excellent, tight fashion. I think this lot won a few new fans today and well deserved it is. Keep rockin' lads.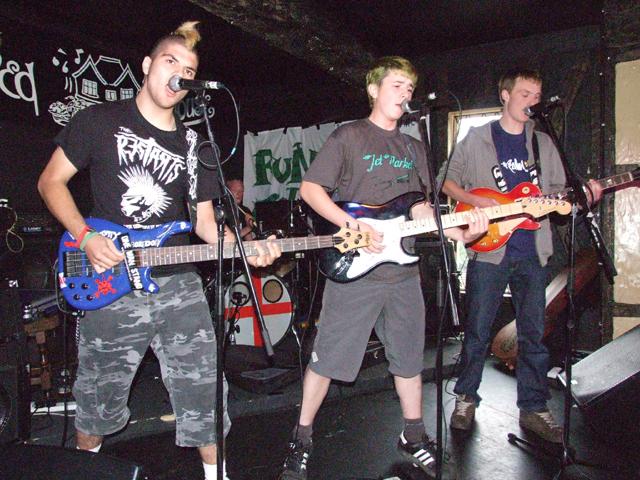 Ambush UK - One of the most improved bands around
I wondered how Sounds of Swami would go down on a gig that was primarily pure punk rather than dipping in and out of the metal pool. The reason for the slot was that they are a damn fine band and really burst a gut at a previous gig I had put them on at The Yorkshire House in Lancaster. This performance today was a real stunner and the energy and overall skill on show was a real treat. Again the reception was great and yet another band who won a few new admirers. One punter by the name of Bartek (Top bloke) went so far and said this was the best band of the day - and this guy knows his stuff. Not bad eh!
Well 4 youthful bands done and dusted and I was very happy by what had transpired so far.
Next up were Skiprat who were far from young and were I band I had included on the evidence of a CD listen. I expected a change in tempo here and that is exactly what I got. This took a few songs to get going as far as the crowds attention went but by the end of it Skiprat won the day. I like the variety these lot put together and the fact that they attended on the Saturday was a real bonus with me. Speaking with the vocalist and drummer I was thanked for giving them a great weekend and an opportunity to play. Jobs a good un' then and the fact that they played a worthy set too will only lead to more gigs from myself and hopefully others.
I was getting my fifth wind by now and was really looking forward to Social Schism's second performance of the weekend. Two busted guitar strings and a bit of drum-kit bother were temporary glitches in an enthusiastic and speedy set. I love this lot and 'Nick Griffins Guilty' and again the awesome 'Battle For Cable Street' were the picks from an enjoyable set and Ben was keen to collar me later and request some more gigs up this end. A long trek from Southend but providing adequate conkers can be summoned from the punk rock chestnut tree then it would be my pleasure. Come on tree lets see you bear some fuckin' fruit.
Barnyard Masturbator next and this jovial crew really did themselves a great deal of good in playing the best set I have witnessed from them. This seemed a whole lot tighter than in the past and the comfort the group emanate from each other is almost tangible. Mike the bassist is improving all the time and really held things together here with guitarist Steve doing his usual excellent guitar work and Scarlot being the charming frontlady as ever. In fact vocally this seemed as though she been practicing in the bathroom for some time becasue there seemed a few new notes thrown in the old repertoire. Performance of the band was from the drummer Caz who despite throwing the odd stick (unintentionally) got passed her RSI syndrome and belted out a real cracking beat for the others to follow. Again 'Plastic Surgery Nightmare' shone frum a duff-less set. Keep on tugging away lads and lasses.
The previous mention to RSI seems quite apt at this moment as my friggin' hands are aching off writing this review. If this interferes with the picking up of a bottle of bronze I will be well pissed off.
Anyway the pace and attitude was altered for the next performance with James from the Guilty Pleasures doing a short and sweet solo spot that was made up of several GP songs. A confident delivery with all tunes nicely adapted to the one man routine and James did himself proud. In fact as he has now taken up residence in Manchester he may have found a new circuit to strut his stuff on.
Next the entertaining and melodic Redneck Zombies who in all honesty played one of the sets of the weekend. Thoroughly entertaining throughout and rammed to the rafters with brilliant songs the fun-filled performance was a joy to behold. I have seen these guys a few times before and they were good, but this....! Frontman Bundie played an absolute blinder and his interaction with the crowd was the gift of a master showman. This shouldn't detract from the lead guitarist and drummer who really played out of their skins and helped bring about a classic. In ragged shirts and all well up for it this 3-piece gave the weekend a whole new twist. 'What Did I Do Last Night' was a prime cut from a beefy set and I am sure the Zombies have won an abundance of new admirers after this delightful dish. After me now - 1,2, 3 - PRICK!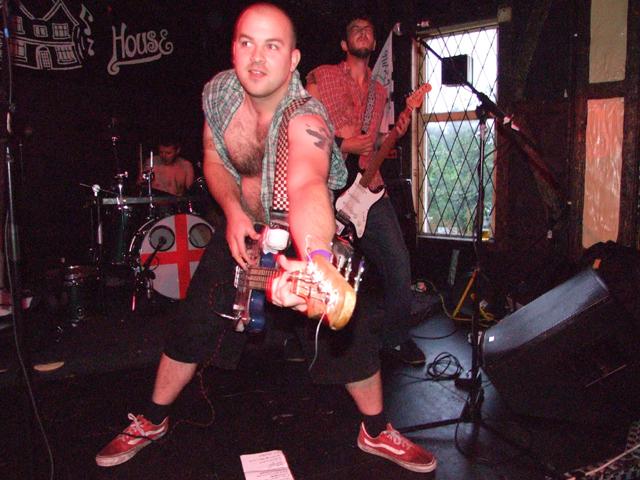 Bundie and the Zombie crew - very entertaining indeed
As the gig just seemed to get better and better it was the turn of the awesome Shadowcops - an outfit I have recently labelled the best band in Manchester. Fully fuckin' justified too. I informed the band I had been telling the crowd this and was met with a smile and an unfazed look. Fuckin' hell this was a stunner again and the pounding downpour of noise that showered the audience was mightily impressive. Absolutely superb this lot and if the performances keep coming like this it is only a matter of time before some label snaps them up. 'My, My, My, My Personal Ennui' is a real blasting tune and was the pick from one stupendous watch. Brilliant and a band worthy of gigs anywhere and anytime. Nice unassuming bunch of characters too which is always refreshing for us old miserable buggers.
The next band up were one of my faves of not just the present but its looking like all time. I truly love Most Likely To Fail and their approach to making music is with an emphasis on a darn fine tune and intelligent, well placed lyrics. I informed frontman Paul earlier that evening that I had put them on after the best band in Manchester. His face was a picture and after seeing the Shadowcops it was still in a distressed state as well as being a little paler. 'Just do your stuff mate' I informed him and off he pottered to take the stage.
Wow - well done lads what a stirling performance and one that was a reflection of a band who take time with their material and really do know what genuine musicianship is all about. If ever a band deserves a break then it is this lot. Wonderful fellars and ones that never fail to make me proud. 'Weekend Rebel', 'Killing Time' and the incredibly outstanding 'Innocent Eyes' are a small selection from a stunning collection of outpourings this lot always deliver with total accuracy and clarity. The covers of 'Code Blue' by TSOL and 'American Jesus' by Bad Religion were totally and utterly nailed and this obviously convinced the crowd that they were witnessing a truly fine act. In fact the two renditions of 'American Jesus' just filled me with so much pride and admiration I realised I was experiencing another one of those momentous punk rock moments. At the end I was absolutely thrilled to bits for this lot and can only hope I can help them achieve their potential and realise just how much pleasure they can bring. Unadulterated excellence.
Insane Society who hail from the Brighton area and must of been thinking 'What the fuck'! They surely had some classy bands to follow but no bother here as this Southern bunch dished out their old-school stuff in great fashion with 'Fat Chick', 'Made In China' and 'Bastard' stand-outs from an array of sing-a-long gems. Local guy Buddha joined proceedings for 'Shut The Fuck Up' and it was a case of just one cracker after another. Frontman Sheldon holds the crowds attention with his stage presence in-between song banter and the old school brigade lapped up this passionate performance. Bloody good stuff and really one for everyone to check.
And finally....
Lowlife UK who came and rounded off the weekend in fine style albeit to a disappointing diminishing crowd who obviously were tired and getting to bed before the start of a working week (point taken before organinsing the next 3 dayer). This was as good as ever and the songs were blasted forth in the expected forthright way Lowlife do so well. Can't fault them really and within the blinking of an eye the gig was done.
So that was it - 3 days of Spit and Sawdust punk that for me personally turned out to be very rewarding. Financially I ended up ahead by £40 which I gave my good lady for putting up with all the late nights and organising of late. For all the work that went in I am sure the rate of pay works out at about a penny an hour but hey ho its better than a loss. I ended up selling 47 Fungalpunk compilations which covers the CD's release cost and paid for the gigs wristbands too so mustn't grumble on that front. No the reward for me was in the fact that my sponsors once again informed me that they truly and utterly believe in the SAS ethos and will continue to offer their support in their own much cherished way. Also the way the bands performed was quite remarkable and I have never witnessed so many good performances on a gig of this scale before - just outstanding.
Some of the people I met and their attitudes was overwhelming and whilst sat outside at 11.50pm that night my reflections were of a good gig and of a minor success for supporters of SAS and Deadlamb Records.
Thanks to Banjo and Lisa, Sound guy Steve (Hero) and all the ones who stuck it out for the duration. Tim for being a quality piss head and Buddha (Dave) for his stirling drinking effort, Jae and Jordan for the support and bottle of bronze and most importantly DEADLAMB RECORDS who help keep that fire burning.
Punk Rock is a tough nut to crack but over the last three days it may have just had a hole kicked right out of it.
Cheers.
review by OMD (5 September 2007)