Once again after much pre-gig pissing about with pull-outs, gear hassles and one thing and another the day of the 3rd three dayer arrived and with much trepidation did I enter into the fray knowing the first night would suffer at the hands of the big gig in town which was showcasing the talent of The Lurkers and a band I personally think are overpriced and a bag of shit, The Buzzcocks. Anyway enough of the venom, lets be positive and concentrate on the wealth of talent the underground scene has on offer. So 4.30pm I arrived at the gig and pottered away setting up the backdrops, moving gear, finalising times, flyering and sinking a few of my own tins whilst awaiting the first band.
Wild Trash arrived and informed me two members had recently gone their different ways and this was a new line-up thrown in at the deep end. Hey ho - it is the punk scene and one thing you can say is that no matter how much shit is flung the music still goes on. Despite a desolate venue frontman Kev and the crew were unconcerned and I suggested if nothing else then a good practice session could be had and a chance to start moulding the new outfit. 7.00pm soon came and a few more faces arrived so the boys were asked to get up and do their bit. One thing I was sure of was that vocalist Kev would give it 100% and keep everything on track with nothing more than boyish enthusiasm and a deep rooted passion for all things punk. This guy loves the scene and the sounds therein and it was good to see his band mates do well and radiate some of that belief. 'Bonnie And Clyde' was the first song of this 3 day special and is a particular favourite of mine which is a real melodic number one can easily get into as is the ensuing 'Crazy World'. Thoroughly entertaining and with his union jack knotted hanky on his head and skin-tight leopard skins Kev got straight into the mix and contributed greatly to the overall output. Guitar and bass remained mostly in time and the drums kept good pace and in truth the few minor blips were carried well and didn't really interfere with the flow. Tightness comes with time so no real gripes and 'Picture Of You' rounded off a nice three-way blitz. The emphasis here is always on pure punk and roll pulses and the dominance of melody is truly pleasurable. The highlight for me was that the band are set to continue this theme as the excellent 'Cellophane' had all the trimmings of a classic. With Ramones sprinklings and catchy riffs this was the pick of the crop and the deeper resonance and pleading intonations made this another winner for the Trash lads. 'Blitzkrieg Bop' and 'Bonzo Goes To Bitburg' were complimentary covers and the simplicity of the whole set gave it the appealing element that needs no flash intricacies and pointless frilly edges. 'They Are All Still Brats In Hollywood' closed and Kenny Russell wannabe Tim 'Punk4Life' Davies began filming the perfect finale. Punk as fuck and thank you.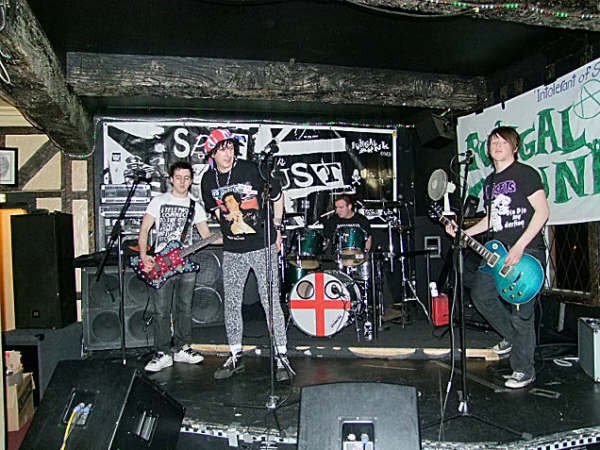 Wild Trash - doing alright with a relatively new line-up
Most Likely Top Fail next and in terms of making good friends with bands on the scene then I regard these guys as the best. These fuckers played this set to a paltry crowd but still rattled out each song with expected efficiency and total belief. I just can't fault this lot and if the support these lot show to the cause was so commonplace punk rock would be a blazing hotbed of success. What can I add - 'Vicious Circle' opened and the signature 'Most Likely To Fail' closed and in between it was just all quality. The new stuff leaves me with salivating jowls as it surely is going to be some real hot shit. The light heady rhythm of 'Innocent Eyes' shone brightly again tonight and for me the lyrical content is more punk than a load of this political crap too many bands tend to spout off about. Light skank then an upsurge in pace and reverse - perfect timing and the rest is easy (well so they make it seem). Quite simply a treat.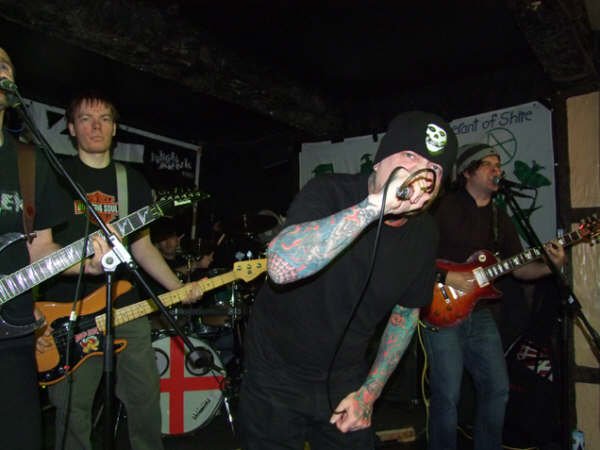 Most Likely To Fail - not if I have my way
After much swapping and changing of line-ups over the previous two weeks it was my good fortune to have the mighty X-Rippers jump on board, and believe me when I say that this lot are always a bonus to have on any gig. Me, my missus and little un' used to go to Barnsley quite regularly to attend the Rippers 'Blimey Charlie' nights and on each and every occasion a darn good punk night was had. We have seen this lot over a dozen times over the last few years and after several hiccups in the bands proceedings it was good to have memories rekindled and see the band back on form. The crowd was a little better now and this lot played it just right and snuck out a set filled with familiar classics and cheeky boy fun. 'Troglodyte', 'Magnet Blues', 'You Don't Like Us', 'Rolex, 'Richard Hillman', 'Pistol Whip A Frenchman', 'Pop Idol', 'Jimmy Kelly', 'Who's The Doctor' and the UK Subs cover 'CID' just gushed quality and the new song ' Do Yourself A Favour, Kill A Clown' embraced everything that's great about the Rippers - total fuckology and fun. Crackin' stuff to say the least.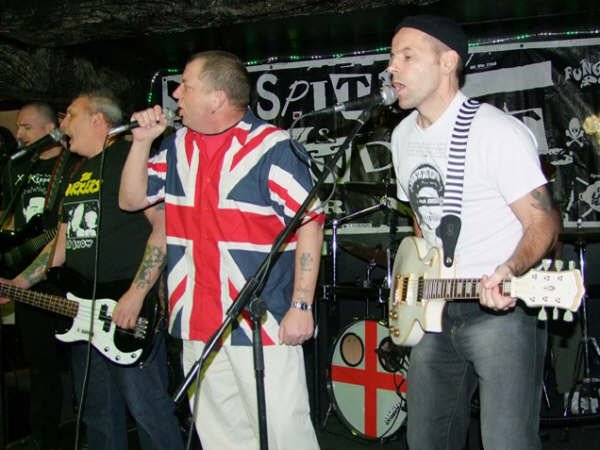 Watch out The Rippers are back - and boy are they on form
From clowns to dwarfs now (in a non-deviant kind of way) and newish outfit 3 Black Dwarfs in fact. These lot were seen by myself at a recent Anti-Nowhere League show were they opened up and as is per usual with so called 'big band' gigs and early slots they performed to a dire crowd (4 in total if I remember rightly) and were not given credit for the obvious talent on show. Well I was there and on the back of that performance thought they could open a day at this 3 dayer. Opportunity arose where a slot came available at the last minute on this day and I thought it would be good to change tack and throw these buggers in and give them the main support and see how they fair. With hand on heart I think the decision was spot on because the change in style was just what was needed and I think the band did very well indeed. The first surprise was that the crew was now a four piece but I thought they were just as effective and the main vocalist having time to drop string duties was a good visual enhancement halfway through and helped vary the style and let this 'erberts strut some stuff. 'Time' is an utter classic and just promises so much as regards the bands future. On the back of this one song many a doorway should open providing they push the word and I for one hope they do. The whole set tests and tampers and the outfit do succeed in all areas with the other high being the subtle and effective 'Cellar V'. Most definitely a band of tomorrow so get off yer arse, check out and support - I for one am a 3BD convert.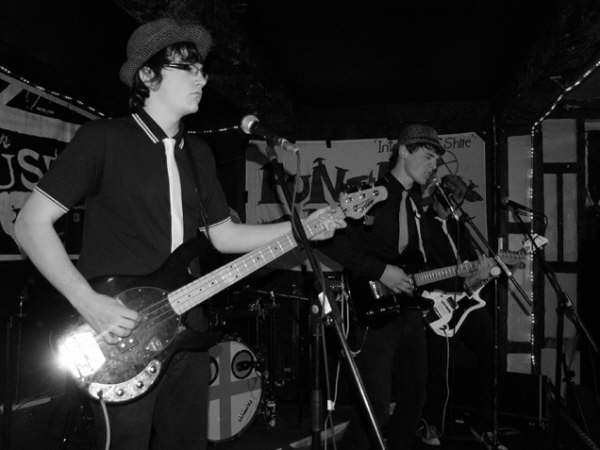 3 Black Dwarfs - thrown in and thriving
And bringing the first night to a close were the old SAS faves Red Neck Zombies. Frivolous and with a loquacious frontman this was as expected. Great tunes interspersed with lunatic monologue that combined to give a great finale to a evening that was a struggle. The RNZ brigade always put on a good show and this was more of the same high standard and I was well pleased with it. The fact that the buggers had wrote a song about me was both complimentary and embarrassing but it was a great tune and a moment I will never forget. How did the lyrics go - 'He likes fungus, he likes punk, he likes catching moths and getting drunk...' - ha, ha - hardly Wordsworth but spot on I suppose. What a twat people must think I am! Anyway a nice cherished touch and for all you promoters out there you really should try and get these 3 lads on board a gig or two. A real heart-lifting jolly that has no underlying bollocks but is built on having a good time. 'Ejaculating Corpse' and 'Red Neck Zombies' stood proud from a bone yard of belters and another nod of acknowledgement goes their way.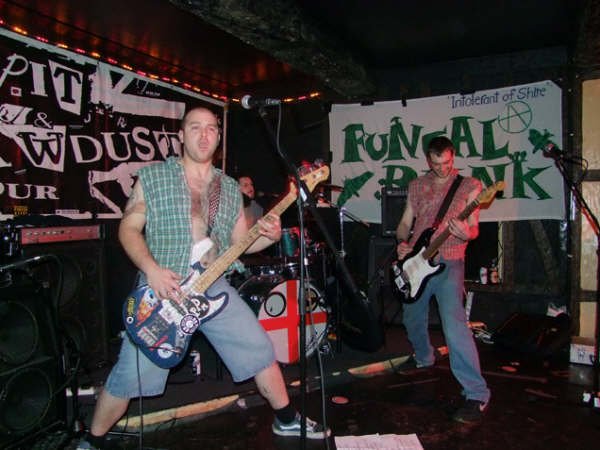 SAS Favourites Red Neck Zombies pulling out all the stops again
5 bands, 5 great sets and the best gig of the night in the entire country and I am proud to say that the drooping SAS flag was given fresh impetus by these five bands who contributed greatly to what I believe to be a genuine tour for each and every spiky haired bugger around. Hey don't laugh - I mean it and forget the fact that far many more went to the big academy gig - this is where the real punk was at and I loved every minute of it. Great sausage and chips on the way home too - nice!
DAY TWO
And so to the main boozing day. After me and Tim had been and had a fry up at Morrisons my good lady (and veggie hence opting out of the meal) nipped us up to Ashton so Tim could feed his cat. Back to the venue for 11.30'ish a bottle of bronze was tackled whilst mooching and waiting the first band to get up and at it. Glue Ear were scheduled for an 11.30am start but again band pull outs and such dictated a change in timings. Chits and chats and salutations to the arriving bands and faces helped time pass and before one could draw breath the Glue Ear trio were opening up what was to be a stunning day.
Frontman Scott (of Scottfest fame or infamy ha, ha) had been a star so far and was pushing this gig like mad and had also attended the previous night with bassist Albi. Good lads and this was a good set with a decent crowd for the time of day that lapped up the outpouring with relish. A bit loose in parts but this is a fairly new band and things I am sure will tighten up. There are already some good basic strum and drum songs in the mix with 'Beer And Curry', 'Gordon Brown' and the always likeable 'DSA'. The latter is the best so far and as soon as these guys get back in the studio and produce some more merchandise for us to hear then the better. No complaints at all and more than happy to give them more gigs.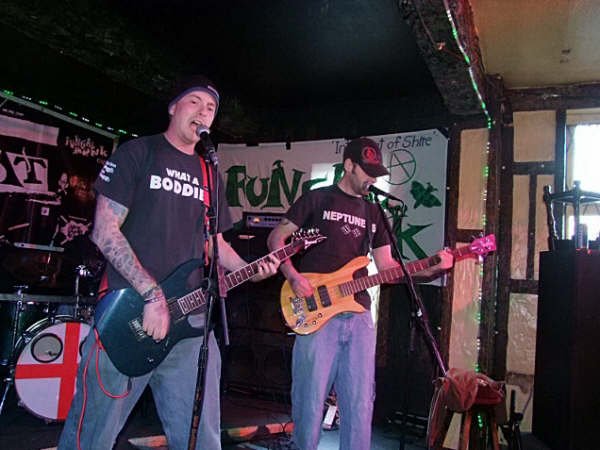 Glue Ear - sticking a good one in the crowds lugs
More pottering and gear organisation and hardcore excellence was bomb out by Spiteful Way, a new band to me but one which seemed taking a chance on. Fuckin' hell this was absolutely stunning and the whole intensity was border-lined with complete individual focus from all band members. Guitar right - smiling eyes totally enjoying the bomb blast, bass centre - in the groove and as one with the throbbing 4-string whore, guitar left - in a haze of his own sonic vomit - drums rear bashing and banging to sado highs and the front mouth in a world of hardcore highs. This was heady octane magic conjured by real wizards of speed and the attitude before, during and after the set was spot on. Loved every minute of it and must get a CD release soon enough and hopefully get em' a gig somewhere else.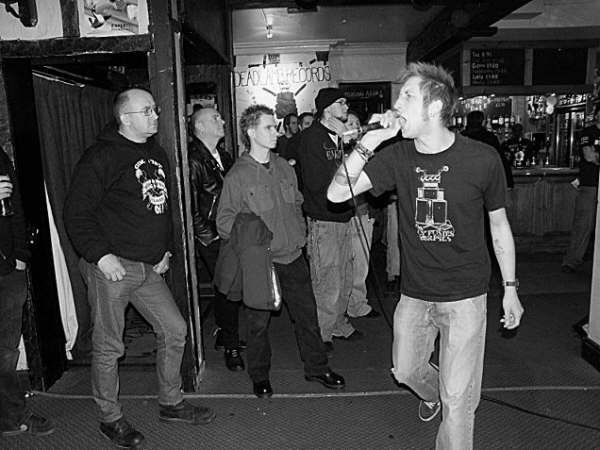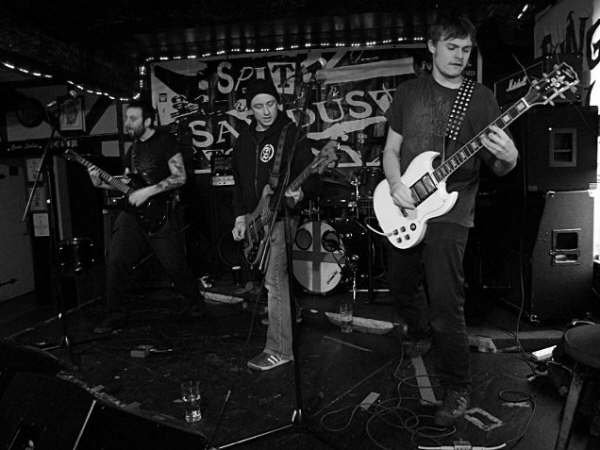 2 shots of hardcore merchants Spiteful Way - a real exciting surprise
Quick switch around next as First Time Riot swapped places with None Of Your Fuckin' Business due to domestic agendas and such like. Always family first so no gripes and especially no gripes with the bands output despite the front guy having a dicky throat (no not dick in his throat you deviants). FTR have a classy edge and this was again apparent as top tune after top tune was tumbled forth to a decent crowd who were keen for more. A few new songs here too that I was certainly unfamiliar with but all maintaining the standard that this band have set so high. 'Seize The Day' wins the best song prize for me as it is such an inspiring piece of work that rouses the most idled minded on-lookers into taking an interest. Also 'This Country' is equal in stature but this is because it is nothing more than a fuckin' massive moment in punk rock underdog history. With Pistol riffs and superb vocals this would have been one of the biggest songs of the punk era if released 30 years ago and of that I have no doubt.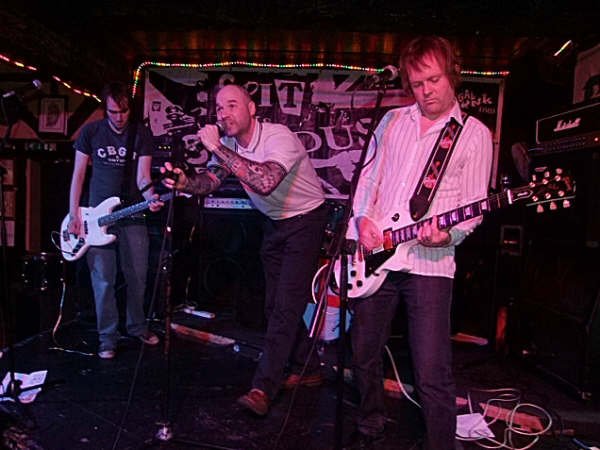 A real class outfit First Time Riot came up trumps with a great set and clinched a record deal
Getting slightly tanned at this point it was time to swill some water and get the old head back on track. It was with relief that I stayed on the side of sober and had enough clarity to witness Tyrannosaurus Alan produce a skanking stunner. I rate this lot on the back of two recent CD demos and this backed up what I suspected in that another good ska crew were doing the rounds. The main gripe I had was the fact that these guys had done a bloody long drive and I didn't have anywhere near enough cash to cover their petrol (sorry lads). They still got up and played a cracker though and with a few older punks in the room I was pleased to see them getting nods of approval from all on lookers. A song called 'People Like You' (hope the head was as clear as I thought) was the choice moment but in truth the change of style worked well in all areas.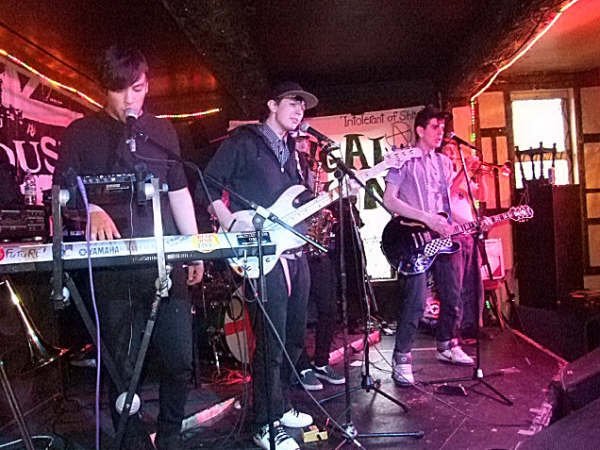 Despite a long journey Tyrannosaurus Alan pulled out a monster set of skank
I was now on my first black out of the weekend and with people pecking from all sides (in a nice way of course) my mind was a waterfall of things to do and remember. A few tins calmed the situation and the very entertaining None Of Your Fuckin' Business brought some timely light-heartedness to the flow and again played a cute little set that all enjoyed. This was pure moronic music for noodles but done so well that you can't help but enjoy it. Great tunes and idiot lyrics, for example - 'It's All Relative In Atherstone' goes something like this – 'You don't wanna kiss off yer mum, coz you'll have to put yer fingers up her bum, Ya don't want a hug off yer granny coz you'll end up with your dick in her fanny' - oh the joys of poetry. 'Beadles Not About Anymore' is a fuckin' gem too and although lacking in vulgarity makes up for it in piss-taking brutality. 'Billy's 10ft Willy' really highlights were the mentality of this band is at but they are one of the most comedic bands on the circuit and the songs are all crowd inducing and I was more than glad to include them on this 3 dayer. You are all crackers lads but great to watch - yeah.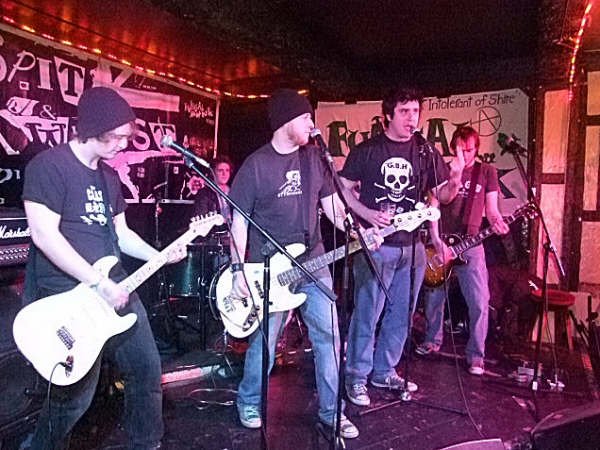 None Of Your Fuckin' Business - lewd and loud, crude and proud
A mini-break was planned here but Most Likely To Fail were asked to jump up by yours truly as they were in attendance and I thought it could make up for the previous nights lowly turn-out. Well, like troopers they made the most of it and really thrived on the good sound and great applause. The feedback after was brilliant which pleases me no end and for once that's all I need to say. I love the band, love the tunes and here they did themselves and me proud. Thank you mates.
Blow Up Doll next and some time for a slice of real grooving rock and roll. I have seen these once before on a recent Bradford gig I did and this was just as good even though it was a different singer. I thought she looked different ha, ha. This is one of those bands that like to glam it up a bit and throw in an abundance of hip twisting riffs and funked up solos that really blazes a trail. They bring a few with em' who all seem to love the crack and to be honest I can't fault em'. What I do need to do is get a CD from the buggers so come on lads and lass - get recording. The energy is abundant so get it captured whilst the embryonic enthusiasm is spunking in all directions. It's the groove and rock overtones that carry this band and the sound is ideal for dipping in and out of sub-punk genres. Thoroughly enjoyable and again the feedback backed all my thoughts.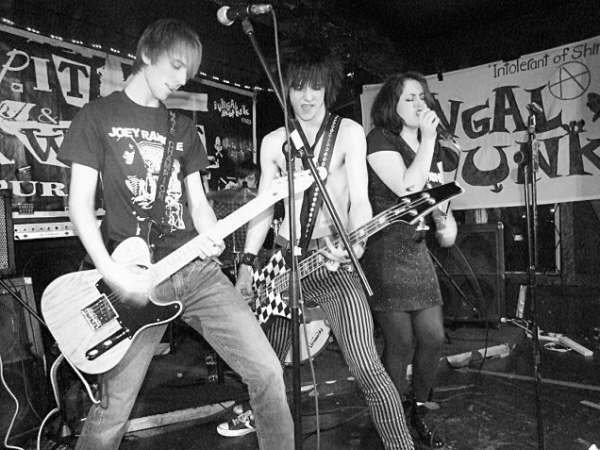 Blow Up Doll - grooving and moving with slinky punk glam
Born To Destruct next and with frontlass Kat really struggling with what now seems to be a throat and ear infection this was a brave struggle that showed commitment and in truth wasn't half bad. Seated before the mike the young lady looked a trifle fed up with her aches and pains but still she bit her lip and had a real go. The crowd were appreciative and BTD tried their best and scraped by with an acceptable performance. They are better than this but when yer leading light is dimmed by the disease (oooh that sounds a bit too dramatic) it is always going to be a struggle. Nevertheless full marks for the effort and spirit and lets hope next time we have a fit and fighting unit ready to rock. They still get the fungal support so there you go. Oh and just to add they got the support of their 15 strong army of fans too which in my book is pretty good going and reflects a darn fine attitude.
Mispelt 2.0 had traffic problems and came flustered and hassled but eventually calmed down and got up and produced an absolute fuckin' corker. For those of you who keep up with all things fungal you will probably know that this lot got performance of the year last year by yours truly and on this evidence they are in the hunt again. A good band indeedy but since that elfin creature Gen jumped on board things have just got better and better. Nerves were her biggest bugbear early on but gradually she is overcoming these naughty niggles and imposing herself oh so gently into the driving seat. A voice of a roaring banshee this bitch from hell can bellow with the best of em' and I mean all that in the nicest possible way. It is quite helpful for her to have 3 darn good musicians behind her and a catalogue of classic tunes at her disposal so who is the lucky one then? Overall this was superb stuff and to pick out one song is bloody hard. Eeny, meeny miny mo - er 'Petrolbomb' because it quite simply ROCKS!
Talking of rockin' - well how good are The Senton Bombs. On the evidence of this gig - very fuckin'; good indeed and everything I deemed they were capable of came to fruition here despite the odd drumming blip the set was a hammer blow to the skull and perhaps the most disjointed looking band of the 3 days produced one of the best sets. Grappling rock punk that grips the nuts and makes the eyes water with the grinding rhythms and red hot riffs. It was great to get them a good crowd to blast to and they did it with precocious ease. I have great faith in this outfit and hopefully they can get some real credit for all their talent. 'My Girlfriend Was A Nazi' buzzed and of course the Rancid cover opened ears - brilliant.
Dangers Close next and after being mighty impressed last time I saw them and hearing of some major line-up changes I was hoping this would live up to the previous viewing. Well despite the worries this was another stunner of the night and I totally had a ball watching this as all tracks were delivered with melodic passion and general gusto. I knew they were going to be alright after 'Burn', 'Daily Grind' and 'Fear' all rocked and the frontlass gave rock chick an all new angle with her arse kicking passion and amazing vocals. Guitarist Paul (and startling enough as it seems - original member) seems to have an eye for talent and here he has really come up trumps. What a fuckin' good band. Sturdy sounds and plenty to latch onto and all components helped the cause. Not totally tight but well on the way and easily good enough for this old fucker.
Gimp Fist hail from Darlington - I'm a fan and this was shit fuckin' hot. Need I go on...well if you insist. From the beginning to the end this marvellous 3-piece blew me away and even though the drummer was not impressed with his own performance I think they were value for your bloody money. The songs are so good the odd error gets overlooked and that is the sign of true quality. 'Don't Wanna Be Like You' is punk incarnate, 'War On The Streets' gritty, 'Country Fit For Heroes' reggae skank with a gilt-edged finish and 'Whatever Happened' a convincing delight about growing up. 'More War Stories' was the fungal song of the year in 2007 (nuff said), 'Skinhead Not Bonehead' opposes the judgements that many make if you have a shaven head and 'Just Another Country' is another gold medallist. It's all top notch stomp and romp rhythm and this is one band that should be at the top of the Oi tree. 'I'm An Upstart' had me jumping in the fray and all ended well with an encore that my rusty head just can't remember. Bastard that sherry sometimes!
Gimp Fist and me - or - a faultless band with fungal (beer induced or course)
And so to Citizen Keyne - ha, ha - boy did these buggers have some acts to follow and I was wondering just how they would do that. Well to be brutally honest they did it with total aplomb and put fuckin' nobs on. You lucky bastards what witnessed this because passion, bollocks and spirit were in abundance and even though the set was well over an hour it was one long fuckin' blast with pride and belief showering the crowd that was lapping it up. Punters were asking me all night were had I found these bands and there was no exception here as these Oi Boys rattled out the songs. Wake, wake up - get off yer backside and you shall find. Simple ain't it! The full stop on a sentence that was being written all night was placed firm and true here with the message being - 'You don't need so called big bands when talent like this is on show - full fuckin' stop. 'Ungreat Britain' is perfection and really shows what you can do with a blatant message and some pitbull aggression. Talking of pitbulls – boy did that extra vocalist work his arse off - a brilliant inclusion. 'Stand Proud' said so much and got the best out of the buzzing crowd and 'YMCA' had the potential to be ridiculous but was fuckin' good fun. A stunning end to a stunning day and with the threat of being seriously out of pocket I went home still strong in the belief that my motivations in supporting and defending the underdog are 100% right!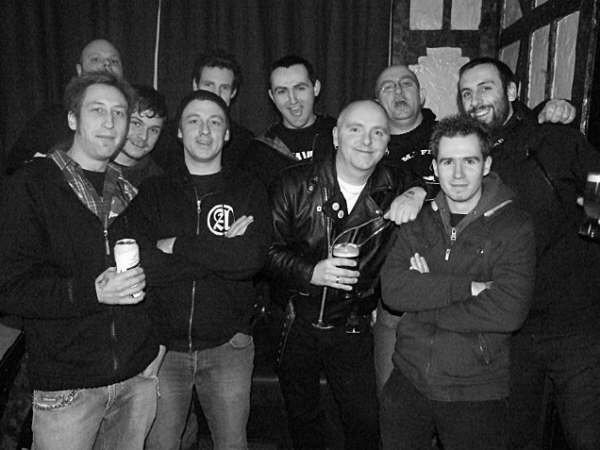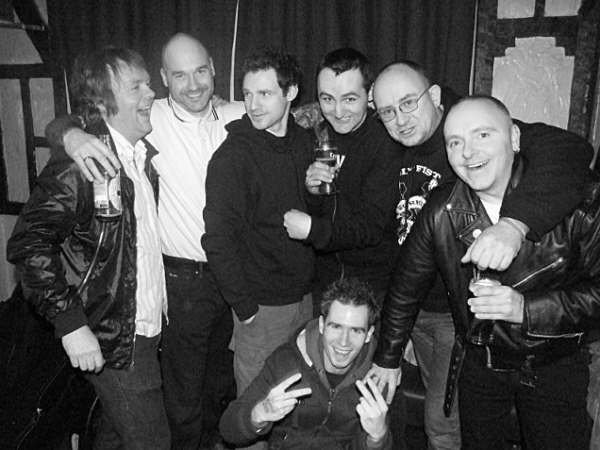 ...and to finish the Saturday review a few group pictures from earlier in the day
PS: At some point during the nights proceedings Tim 'Punk4Life' Davies snuck outside removed his pants and undies and had his photo taken on the trike parked at the front of the gaff. Photos of this debauchery are floating around and if you are thinking of carrying out legal proceedings it is worth noting that Mr Davies claims diminished responsibility as he was bombed on QC Sherry.
DAY THREE
Well the final day had arrived and so far so good. It seemed as though there would be no hiccups today as all bands were reliable and well up for the day's proceedings. I arrived in good time, shared a bottle of very fair wine and generally just took it easy as all was set for a smoothly run 12 bander. The opening act The Shadowcops arrived in good time with a few chums and after much jaw wagging they eventually got the day started with a blistering set that was as pleasurable as ever. The concrete sound they built around them held good throughout the set and the fizzling energy they radiated immediately absorbed all onlookers. I am sure I was getting a few puzzled looks from people as to why I put a band of this talent on so early in the day. Ha, ha - it is the SAS you know - everyone chips in, no egos, no pretensions and all have to do their bit. The Shadowcops will get a good slot next time don't you worry and then a middling one and back round to an early one. This was a sneaky test of their attitude and they were not found wanting. I loved it as I do every performance by these young boom blasting riffers and the new stuff is sounding quite exceptional. To be honest the instrumental was my personal high and I haven't got a clue what it was called. A glorious gem in a sack-full of prized jewels. Got to add as well that bassist and stretching fanatic Mr Avery was a treat to watch and the energy and electrified spasmodics he put in were vital to the whole production. He is a fuckin' good bassist too but don't tell the fucker I said so. Great - catch up with these as soon as you can - you will be very impressed.
The Medicine Bow next and I like the way they leave peoples jaws on the floor, people who have come to a punk gig and haven't seen this cowpunktry crew before. They either think 'Wow this is a pleasant surprise' or 'what the fuck' either way I fully applaud them as they are worthy of their place on any of my gigs due to the obscure element they bring and fine tuneage. Medicine Stu on guitars is a diamond geezer who really doesn't give a fuck, which sometimes enhances the show and sometimes hinders, dependant on the alcohol consumption beforehand. The inclusion of professional noodle Matt Woods is a recipe for decibel disaster but when it pays it pays well. I thought this was good stuff and despite getting the odd distraction from punters arriving and Mikey Wong trying to sell me homosexual playing cards I was well happy. You gotta respect this band for braving the punk stage and pulling it off because it could easily receive the wrong reception but this lot do what they do so, as they say, fuck you.
At this point it was with some sadness that Mikey Wong climbed on stage and made a public admission of his addiction to motorbike porn. Having been caught in possession of several photos of Tim Davies from the night before it was only a matter of course that the confession came forth. Little did anyone in attendance realise that Mikey's addiction had been going on for some time and his recent conviction for molesting underage scooters was just a natural progression from the world of 125cc engine love. Poor lad but such are the hazards of smoking exhausts.
Enter Mr James Bar Bowen next with an acoustic set to savour. The variety of sound was continued and for me this was a great inclusion. I met Bar in Halifax last year after I turned up for an interview on Phoenix Radio and he was the stand in DJ for the night. A few bottles of wine and CD exchanges and after listening to the said discs the gig was offered. The one man genius jumped at the chance and I for one am glad he did. Very talented both musically and lyrically this had real nice overtones of venom and hatred without being predictable spit and shit punk. 'Skin' is a dream of a song and the two covers 'Holiday In Cambodia' and 'Teenage Kicks' were both apt and remarkably arranged. This had the effect I desired and I am fully convinced that this would have been perfectly positioned amongst the preceding Saturday night blitz when all out underdog punk was thriving. Great stuff and yes lets throw them into the melting pot next time.
After his set Bar then decided to introduce myself and the ever thirsty Mr Davies to his home brew and what a grand drink it was. Of course several pints had to be downed just to confirm the flavour was really that good and indeed it was. Cheers to Bar and his mate as well for coming down and supporting all bands yesterday and today - just what the SAS is about.
The Dangerous Aces next and the usual mismatch of melody was had as these 4 opposing components attempted to gel and in parts succeeded and in parts failed. The first half gave impressions of a band that was organised whereas the second half fell somewhat apart. The best way to describe the band would be as follows – enter a toy shop and buy four 10,000 piece jigsaws. Go home – down 20 tins of red bull and do a few joints then upend all the boxes into a heap. Mix all the pieces up -, strip naked, close your eyes and pick out 4 pieces then look at them and do with them what you will. And there you have the Dangerous Aces. Occasionally the pieces fit together with a few straight edges thrown in but quite often the pieces need to be pushed together to create a misshapen image that does sometimes appeal. Don't forget that now and again the odd component is frayed and tattered around the edges and here Matt Woods was that very piece. Good and bad and colourful is what you get and this was all there with the bests songs 'Seems To Me' and 'Lock-In'. I like them and that's why I give em' gigs of course so that's my excuse.
Brum Boys Meat Hook (no spelling error phew) next and with a metallised scene this was far better than drummer Jay was trying to have me believe the little bugger. In fact it was pretty well organised and although not bog standard punk it had enough clout and pimpled angst to enjoy. Jay was outstanding on drums and bombed a merry beat for the other two members to strum along too. I am not totally familiar with the bands output as yet as this was arranged after Jay's old band (The Fortunate) split and the new one jumped on board so alas the review is brief. Again good feedback too, which bodes well.
A small moment of respite then the super gigging machine that is 2 Sick Monkeys weighed in with another pot of gold that really highlighted what a fuckin' fantastic band these lot are. Bass and drums play in perfect unison and the attention to detail, general madness and stunning work ethic all paid dividends here with a performance that blew minds. People gorged on the skill of these two craftsmen and I feel 2009 is the year that 2SM really make waves. If there is a bad song in the set can you please e-mail the name of it as soon as so I can add it to this review - if not then fuck off and enjoy. As always absolutely superb and the fact that I ask them back every time says it all.
Total Bloody Chaos in all their crusted glory produced another cracking set and I love the sound the guitarist strums out here so as to give a backdrop of noise all other members can work around. Female vocalist Jo is always value for money and looked a right 'imp of the perverse' with her pork pie hat and infectious dancing. Her comrade at the front, gravel voiced Doddy is a perfect partner in crime and they really do hold the stage well together. This is old skool punk with no coloured in bits but just a monochrome delivery that you accept or reject. It hits a right soft spot with me as this is were I was grounded in the punk arena and I could almost be 30 years in the past listening to this protesting vibe. They have some good songs too with 'Chav Central', 'TBC' and the impressively outspoken and controversial 'Vigilante' all corkers. In fact the later song was enhanced by the band donning ski cum rapist masks and really letting rip about how the law is too lenient and it should be taken into the hands of the victim and frustrated. Can't fault it and from the compost heap that is TBC let the fungi flourish.
Are you still with me? Fuckin' hell good on yer because I am fizzling fast. Pressing on and Sense of Urgency knocked out a big wake up call to the crowd with a temazepam, dope and Red Striped bonanza of in yer face skank that never fails to impress. After last years riotous performance at a Fungalskapunka gig in Bolton this gig offer was only a matter of procedure. A nice bunch of chaps (and lass) too and yet another band who deserve more gigs and credit. A few hiccups passed almost unnoticed and frontman Joe played the crowd to a tee with high velocity vocals, top notch banter and a bit of blacked out crowd surfing. A shortish set, all great songs and just to add - 'Men Without Jobs' fuckin' rocks.
Getting tired now and really didn't want this to overrun by too much so asked the Flat Back Four boys to crack on and change over as quick as possible. They did and the set just reinforced their ever improving stature and really held the attention of all present. I know these songs inside out and again any minor blips were covered and the show just flowed. 'Wouldn't Miss It For The World', 'Locked Out' and 'Alcohol' buzzed brightest, 'Jeff's Rock Night' is a particular favourite of mine but like I say, I am so familiar with the set I love em' all. 'Thatto Heath' and 'Psalm 23' are of such stature that FBF can only leave a great aftertaste in the punters' mouths and so they did here.
Harijan are a remarkable skank outfit from Manchester who are just a real cut above. I am not 100% convinced on CD (95% but not a hundred) but on a 'Live' basis I would have to watch replay after replay to find any crucial faults. The crowd were ready for this, especially the TNS brigade who revelled in the smooth outpourings the band so readily gave. 'Bees and E's' jolted everyone upright and not one complaint was had as these marvellous melody makers brought the joint to a new high. Loved it and I will offer them a few more at different SAS outposts to spread that convincing sound.
Right no fuckin' about and to the last band of the 3 day festivities and Phobia belted forth a noise that was total punk, utterly furious and blatantly old skool. A rampaging rage against things relevant and things now not so relevant but musically very appealing. Again a few blips but not even noteworthy and the remaining crowd enjoyed it thoroughly and a few were still dancing. 'Prime Sinister' is a great song and tonight was as good as ever and I thought this lot brought the SAS gig to a fine close.
So the 3rd SAS 3 dayer done, dusted and down the drain in the sewer of punk rock exploits. All who took part should thank themselves for being involved and I can honestly say that all 3 festivals have run smoothly and have gradually got better and better. This gig was pushed hard and long and the upshot is that you really can't interest people if the basic enthusiasm isn't there. I had a few comments prior to the gig from various misinformed morons that all bands were shit and not worth watching. The fact was that these people hadn't seen more than half of the bands anyway and why they take pleasure if putting down other peoples' hard work is beyond me. Again it is the small thinking element who struggle to get their limited brain capacities beyond the fact that if a band isn't a big name then it mustn't be as good. I think a point was rammed home again here that the underdog bands have a lot to offer and that is where my heart truly lies. Think what you will and say what you will but I love this streetpunk and gutter noise and am really proud of what I witnessed over these three days. Truly memorable and what punk rock is really all about.
With aching legs, ringing ears and a fuzzy head I pulled down the backdrops and made my way home after a few final farewells. The autopsy after the gig revealed I had lost £325 over the 3 days which could have been worse but could have been a whole lot better had I opted for a gaff who did the sound and door for free. Saying that the sound was spot on throughout with the odd technical niggle easily overcome. Full fuckin' marks to Steve for that and full marks to Paul on the door for braving the elements and showing extreme vigilance and being a darn nice bloke. Primarily thanks to Deadlamb Records who flew over and witnessed what the Fungal Fucker is doing for the underdog as well as supporting the cause. These two lads and lass are quality supporters of the scene and charming company, so a fungal thumbs up to them. Also thanks to Most Likely To Fail - these fuckers not only played twice but as usual came over from Bradford and supported as much as they possibly could each and every day and had a good old piss-up on Saturday and really let rip. Tim 'Punk4LIfe' Davies gets my thanks for being a total dickhead and pisspot and genuinely good fuckin' company. He's always there helping fly the SAS flag and even though his cock was exposed again the punters refused to leave. Add on Jason and Jordan too and OMS Ant for worthy support and suffering Jan who is out of work and skint. Tez and Bartek and Noz and Karen also get a nod and I hope the cans went down well Noz - ha, ha. If I forgot anyone else - apologies I am fuckin' wrecked.
The SAS rolls on and after the next 10 bander the tour seeks pastures new - we shall see.
And the biggest thanks of all - to (trumpet fanfare) my wife and little un' for supporting the Friday and Saturday nights and picking me and Tim up and ferrying us about. My wife is a dream woman and I love her with all my heart and the fact that she puts up with my punky over enthusiastic nature is just a bonus I do not wish to abuse. Without her selfless support and genuine love I would struggle to do what I do so think on you bunch of twats and thank her when you next see her with me. My little one is a punky little bugger too and is going the right way to be another great lady with all the right credentials to enjoy and support the scene and be a real lovely person just like her mum. These two have a lot to put up with and suffer the setbacks as much as me yet persevere because they see how much I mean it.
Misdirected, mischievous and misunderstood perhaps but Fungalpunk tries, and that is all I ask of anyone. TRY to be good, TRY to keep punk real and most importantly TRY to be yourself.
Cheers
Fungalpunk/OMD – yeah - I love it man
Friday and Saturday Pictures by Tim 'Punk4Life' Davies
also check loads of pics by Matt from Rebel Conspiracy - here