How long has Instant Agony been around –since the '80's? How did that come about?
I got the name and idea for the band in 1979, but it wasn't until early in 1980 that I got things moving and got a proper band and line up sorted. There was a group of us in Birkenhead who were into the punk scene and we used to go and see all the touring bands play in Liverpool that was back in 1978. Our favorite venue was Eric's, but we also used to go the Royal Court, the Empire and the Mountford Hall. After that it just seemed a natural progression for me to start making music in my own band with my mate and guitarist Ant. Although when we first started we couldn't play a thing. I'd never even picked up a guitar before then.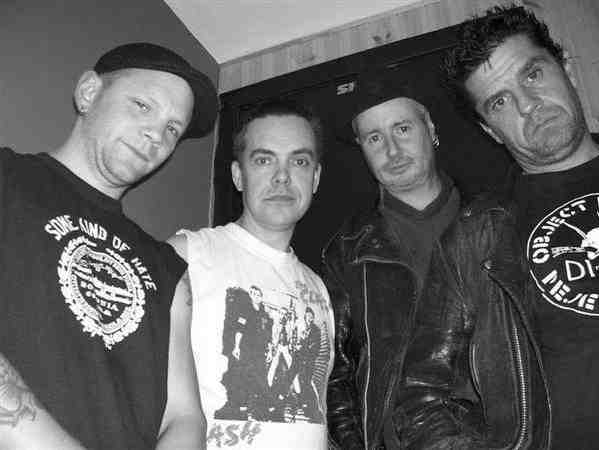 Long term punkers - Instant Agony
Do I stand correct in that you have cranked out a new album this year entitled, "Exploitation,". Where can it be purchased in the UK & in the USA? By the way, the cover artwork is great—2 thumbs up ;).
Yes we've recently released a new album called 'Exploitation' on our own Be Afraid records label, it's got 15 new recorded songs on it. You can get it in the USA at Interpunk and in the UK there's a number places that it can be found, it's also available from ourselves. Cheers Jillian, I'm pleased that you like the cover artwork!
While checking out your discography, I was wondering how many releases are there? I'm baffled as it hasn't really hit here in the states. For your information I now realize that the new CD along with some of the others can be purchased on www.interpunk.co.
Over the years we've had quite a few releases including three albums - 'Death of a Century' - 'Out of the 80's' & 'Exploitation'. We did record another album in 1984 'Nicely Does It,' but the master tape got lost and so it never came out. We may re-record those songs again at some point, because nearly all of the songs on it never saw the light of day. As for singles we've managed to release 9 of them. 'Think of England' - 'Fashion Parade' - 'No Sign Of Life' - 'Nicely Does It' - 'No Pain No Gain' - 'Parasite' - ' Not My Religion' - 'Think Of England' (25th anniversary new recording) & 'One Man Army'.
What should we expect from this new cd? Curious… Anything that stands out?
For me this album is the real Instant Agony, it's what we're all about. It's got our live power and passion and drive. There's a lot on it that people will like if they can just get to hear it. We're all really pleased with the outcome, and a lot of the songs on it are already in our live set. The response we've had from it is fantastic and we're constantly being told that it's the best thing we've ever done! Each of us has our own favorite songs on it, but some of the stand out songs are, I suppose, ' Exploitation' - 'Show Some Respect' - 'One Man Army' - 'Take Control' & 'An Image For Money'. (What do you think of those choices Jillian?)
Why do you think that Instant Agony was lost in the 80's shuffle? [like many I have encountered]. Was it the influx of bands bursting out the UK at the time with the same concept?
I'm not sure really, I mean back in the 80's our singles did sell, and they sold well, all over the world. We were holding our own with our peer bands at that time. The thing we didn't get to do which the others did was play live a lot, and do big tours! We found it really hard setting things up and as a band we never got any help from our record companies. Apart from playing locally in the north west (including Manchester) we only played once in London, at the 100 Club, that was it, people couldn't get to see us play live and I think that effected us. With hindsight we should have done our utmost to get gigs and tours, especially throughout Europe and the USA, which should have been our priority.
Who writes the lyrics and what subjects really inspire you? Are you guys the original line up?
I (Tabby) tend to write the material for the band and I have done from day one. As for subjects I haven't really analyzed it, the songs just seem to come out. Hopefully I'm covering subjects that people want to hear about, but I'm not a preacher. I like to write about everyday things and anything that catches my eye, from politics to relationships and everything in between! I formed the band so I'm the only original member left, but Hocky joined in late 1981 so for the amount of time he's been around he's got to be classed as an honorary original member by now.
Will there be other tours this year - I understand you are playing Rebellion Fest in Blackpool, UK (August)?
Yes we've just played Rebellion again, our first for Daz & Jennie was back in 1997 when it was Holidays In The Sun, so it's great still being involved in it. We had a great time again this year, as we always do! We're talking to someone at the moment about touring Italy in November, hopefully that will happen, but we're always playing live in the UK somewhere or other, we enjoy it so we just keep on playing as much as we can.
Do you think there would be plans to ever play in the USA? Curious…!
Yes hopefully, we'd definitely love to play in the US again. We are actually aiming to come over in March/April 2009 to play the East Coast first then travel over to the West Coast. Someone who arranges tours has been in touch from the US and it looks like it could happen. We're going to try to get it sorted over the next couple of months and then let everyone know. So I guess it's watch this space for any details. It'll be posted on our web site www.instantagony.co.uk or at www.myspace.com/instantagony or I'm sure Jillian will let people know?!
We have actually played in the US, back in 2002, we played the New Jersey HITS fest and then we appeared at CBGB's, which was fantastic. But prior to that we were due to tour the East Coast in October 2001, it was all set up, but then 9-11 unfortunately happened and not surprisingly we couldn't get into the country so it was cancelled.
What bands have influenced your sound? Past and present and are there any new bands that may spark interest? Also waht is your most memorable gig?
A lot of the bands I was listening to back before Instant Agony started may well have influenced us, there were so many but some of my favorites were the Ruts, the UK Subs, the Damned, the Clash, Killing Joke, Crisis, all the usual suspects I suppose. And then when the music got faster, got harder, got stripped down, basic and more raw, for me a truer Punk sound that I could aspire to playing, I was listening to the Exploited, One Way System, GBH, etc etc. I would imagine that our first ever gig back in May of 1981 would be the most memorable; we only had 6 songs in the set so we had to do the set twice. It was absolute chaos. The bouncers kept throwing people out, including our singer, eventually we got him back and the gig went ahead, it was punk as fuck! Other gigs (there are so many) which were memorable were when we played at CBGB's in 2002, our 25th anniversary gig in Birkenhead in 2006, Berlin 2008 and generally any first gigs that we play in a country that we've never been to before.
For the rest of 2008, what are the plans for Instant Agony?
Our plans for the rest of 2008 are to play as much as we can in the UK, get to play in Italy and possibly Paris, France, and finalize and rehearse the songs for our new album. In 2009 it will be to get a new album out and get over to the USA and play as much as we can whilst there!

I'd just like to say a big thanks to Jillian for sending the questions over and for liking our album so much, it's appreciated!